Last Friday October 28th, the first transnational meeting of «Sharing childhood 2» Project («SACHI 2») was held in the University of the Balearic Islands.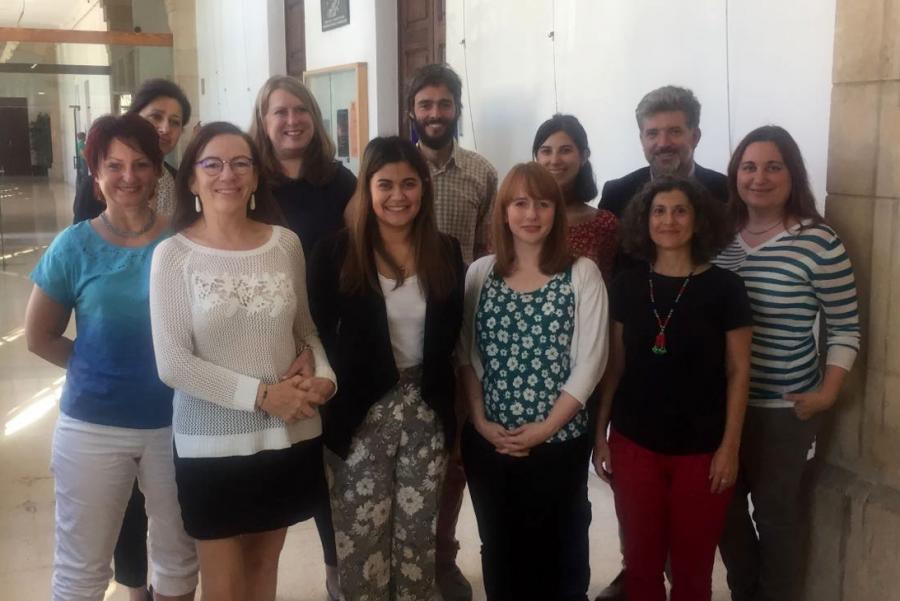 The project is funded by the European Commission, in the framework of the Erasmus+ Programme. Sharing childhood 2 is a two year project where four European institutions are going to collaborate.
The partners are the Association Educational Centre for Intergenerational Integration HIPOKAMP (PL), the University of Porto (PT), the University of Strathclyde (UK), and the Social and Educational Training and Research Group (GIFES) from the University of Balearic Islands (ES), as coordinator.
The intergenerational approach to senior education, proposed by SACHI2 is going to be implemented joining senior and children during the next school year in the involved schools from Poland, Portugal, United Kingdom and Spain.
«SACHI 2» continues the work of «SACHI 1», with the goal of expanding impact the on the educational community: adults, students (children) and teachers. The aim is also to promote the acquisition of language skills, collaborative and technological skills by the senior participants.
The project consists of six sessions where senior (>50) and students/children from local schools in each country (around 10 years old) share experiences.
It is estimated that about 1,320 people are going to be involved and it is expected that, thanks to a rigorous assessment, SACHI2 will produce new findings about intergenerational relations for this research field. The first year (2016-2017) is dedicated to research and preparation of the implementation foreseen for the second year (2017-2018).
The positive impact is expected to be felt not only by the partner organisations but also in schools participating in the project, in Porto, Palma de Mallorca, Strathclyde and Lodz.
With the project launch, partners are now starting to work on the implementation of the SACHI2 project, with the aim of contributing to create quality educational opportunities tailored to individual needs of senior students and to increase the use of inclusive methodologies related to educational diversity, in particularly intergenerational methodologies.
The elaboration and implementation of an intergenerational programme will contribute to help the senior community to develop new and useful skills while contributing to creating an inclusive society.